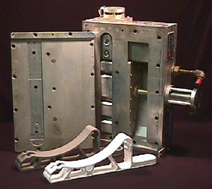 Rapid Prototyping methods
in Lost Foam allow designs to be
tested and modified with less
capital and time investment.
Prototype Casting
In t he past, development of the Lost Foam process was hindered due to the cost and lead time to construct tooling to produce prototype and pre-production foam patterns. Typically, the quantities required and the likelihood of design changes made the use of production-quality tooling too expensive.
For this reason, rapid prototyping methods were developed and are gaining widespread acceptance throughout the Lost Foam casting industry. Customers are realizing that designs can be tested and proved with a minimal investment of capital and time.
There are two basic methods of prototyping available for the Lost Foam casting process.
Fabricated Foam - For lower quantities (one to twenty pieces), the Fabricated Foam method is remarkably cost effective and capable of producing complex part designs without constructing any tooling. Typical lead times with the Fabricated Foam method are one to three weeks for complete sample patterns that are ready to cast.



Prototype Tooling - For higher quantities (twenty to hundreds of pieces), prototype foam methods including, Quick-Cut machined aluminum tooling, cast epoxy tooling, CNC machined epoxy tooling, CNC machined sintered metal tooling and other methods are available.
The continued development of the Fabricated Foam and the Prototype Tooling methods are helping Lost Foam customers bring their ideas to the market more rapidly. We believe that these prototyping methods will greatly expand the interest in the Lost Foam process.