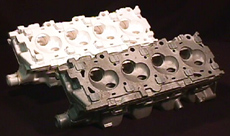 Targeted product design is critical to maximizing the benefits of the
Lost Foam process.
Design
We provide a complete range of product design services that are targeted towards maximizing the advantages of the Lost Foam casting process. Typical process advantages include:
Reduced Machining - Correctly designed parts can reduce machining by decreasing draft, eliminating machine stock and incorporating cast holes and core passages.

Reduced Weight - Excess part weight can be eliminated by maintaining uniform wall thickness, maintaining tighter tolerances and more closely following customer drawing specifications.

Elimination of Complex Cores - Complex (and expensive) cores are eliminated in the Lost Foam casting process. Tool design methods and tool features are used to replace cores.

Advanced Design Features - Lost Foam tooling technology offers the possibility of incorporating advanced design features that are not possible with other tooling and casting methods. Negative draft, cast-in inserts, cast-in threads and bolts, complex curved internal passages and complex hole intersections are just some of the features that have been successful.
In addition to these design feature advantages, the Lost Foam casting process is proven to achieve very accurate castings and eliminates many conventional foundry operations.
Creating a successful product using the Lost Foam casting process depends on knowing the value of these design features and how to incorporate them into the part.