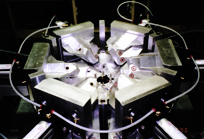 Lost Foam tooling provides highly accurate results for even the most complex parts.
Tooling
As a leader in tooling design for the Lost Foam casting industry, our tool designs range from simple parts to the most complex parts in the industry.
We have designed tooling that is currently used in the automotive, heavy truck, railroad and marine equipment industries. Other major industry areas using our tooling include electric motor housings, hydraulic valves and motorcycle/ATVs.
We believe that there are a few crucial decisions that must be made at the beginning of any tool design project. These decisions include:
What quantity is to be made? The quantity of parts required compared to the production time frame will determine the number of cavities or tools to be manufactured.

What accuracy is required? The accuracy of the part must be viewed in two ways. First, casting tolerances must be evaluated to determine the compatibility of the Lost Foam casting process. Second, machined tolerances must be considered during tool design. While many product design features can be added to a part with the Lost Foam process, it requires foam molding and tool design experience to determine if the features can be held within the required tolerances.

What are the price objectives? The price of a casting is determined by many factors. One major factor to be considered is the price of the foam pattern. By increasing the production volume of foam patterns during a mold machine run, the price per pattern is lower. Additional cavities and increasing tool efficiency are methods utilized to increase production. Tooling can also be made in increments, starting with one set of tooling and adding more sets later as production increases.

What are the delivery objectives? Based on the requirements for production, a delivery schedule can be outlined at the beginning of the project and tailored to the needs of the project. The method of tool construction also affects the lead time for any project. Complex machined tooling takes longer to complete than a simple cast tool.
Using our experience and working closely with the end users of the casting, the foundry and the foam molder, we have developed a design system that includes standard design specifications for all major foam molders, in-foundry pattern molding operations, molding machines and gluing machines. We also maintain a comprehensive tool component catalog that helps us standardize parts and design procedures to ensure consistent performance.