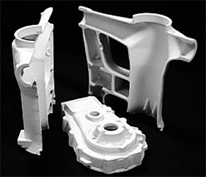 Complex prototype parts that replicate production methods are possible with the Fabricated Foamprocess and with good three-dimensional data can be ready to cast in as few as 3 to 7 days.
Fabricated Foam
Using methods adopted from other manufacturing operations, Fabricated Foam patterns can be constructed and used to produce prototype castings. The primary method used to fabricate the patterns is to use customer three-dimensional CAD models to directly cut the foam material using a modified CNC machining station.
Patterns can be used as engineering models in design reviews with the customer, foundry, tool builder and foam pattern molder. The models provide an accurate representation of the production foam pattern and are modeled to replicate parting and glue lines that will be required in the production part. The models also provide an opportunity to direct process design modifications including draft, stock, gating locations, machine locators, fillets and radii.
Flexibility of design is also a key element in the decision to use Fabricate Foam patterns. With the CNC machining process, changes are made in the three-dimensional CAD model as often as required without the need for any tooling modifications. Turnaround time is similar to other prototyping methods. If quality three-dimensional model data is available, Fabricated Foam patterns can be available to a casting foundry in as few as 3 to 7 days.
Fabricated Foam patterns can be remarkably cost effective, particularly on complex part designs that are likely to change. Typically, the pattern cost is similar to other rapid prototyping methods, such as Stereolithography (SLA) and Laminated Object Manufacturing (LOM). The difference is that Fabricated Foam patterns offer the only Direct-To-Casting alternative. This means that after the patterns are reviewed as engineering models, they may be cast in aluminum or iron without any extra process steps that are required by investment casting processes.
Castings made from Fabricated Foam patterns are currently used to test parts for automotive engines and accessories, heavy truck engines and components, small engine industry, HVAC compressors and electronic components. Success was achieved in each case due to the ability to produce complex passages, maintain accurate parting lines and to incorporate features that will be produced later in the production tooling.