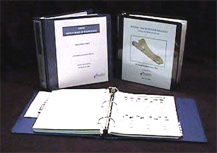 Design and tooling support
documentation are an integral
part of every project.

Consulting

A project does not end with the design of a production tool or even when the part is cast. For every design and tooling project, there are items such as dimensional checking, tool inspection, routine maintenance and other process controls that a company must maintain. In many instances, a company is conforming to an established quality control system such as ISO-9000.

We provide design and tooling support documentation including dimensional comparison charts, tool inspection and maintenance procedures, safety and operating instructions and detailed part prints.

As a support service, we also compile complete project information from startup to the shipped tool in a Tool Owner's Manual. The Tool Owner's Manual has become increasingly popular with our customers as they realize the importance of maintaining a complete record of tool information, revision documentation and maintenance logs.